This is an archived article and the information in the article may be outdated. Please look at the time stamp on the story to see when it was last updated.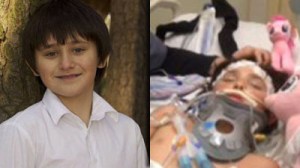 RALEIGH, N.C. — An 11-year-old boy is in the hospital after trying to commit suicide — the victim of bullying at school.
Michael Morones remains in WakeMed Tuesday with a tube down his throat and potentially life-long brain damage.
Michael tried to kill himself, apparently because he could no longer take the torrent of bullying he was facing at school.
Michael's parents told WTVD that he was bullied because he likes the cartoon "My Little Pony." The cartoon has a growing, and perhaps unlikely fan club — men and boys known as "Bronies."
Michael's mother Tiffany Morones-Suttle said that he's a kid who is always full of energy and always dancing. She fears this is part of the reason he was teased so much.
Ten days ago, Michael decided to do something about it.
"He hung himself off the side of the bunk bed, off the railing," said his mother.
His parents got him to the hospital, but the damage had already been done. Oxygen to his brain had been cut off.
They say they won't know for awhile how much damage was done to Michael.
"I've heard a lot of people say you need to go after bullies and hold them responsible," said Tiffany. "But you know, I don't think that's what Mike would want. I would rather teach people how to do right than turn around than punish, because punishment doesn't always work."
Fans of the "My Little Pony" show, like Michael, try to live the motto that friendship is magic.
Michael has gotten support from as far away as Ireland, and a lot of money, which is used for Michael's care, but also to start a nonprofit to help with bullying.
But the bullying hasn't stopped. Michael's parents say just Sunday night on a generally supportive website, a few people left very hurtful comments.
Michael is scheduled to have a tracheotomy Tuesday.
Money can be donated at any State Employees Credit Union under the Michael Morones Recovery Fund. Checks can also be mailed to: The Michael Morones Recovery Fund, c/o Team Trivia Inc., 1380 Woodvine Way, Alpharetta GA 30005, or through PayPal at csuttle3@gmail.com.
A fund for Michael has also been set up through gofundme.com
Source: WTVD