This is an archived article and the information in the article may be outdated. Please look at the time stamp on the story to see when it was last updated.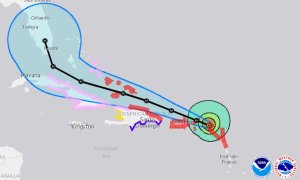 Hurricane Irma remained a Category 5 storm as of the National Hurricane Center's 11 a.m. advisory, its eye passing over Barbuda about 1:47 a.m.
All of Florida's peninsula is now in the new forecast cone.
The massive storm was located just west of St. Maarten. It was moving west-northwest at 16 mph with maximum sustained winds of 185 mph. It aimed at several islands, including Puerto Rico, Antigua, St. Kitts and Nevis, and the US Virgin Islands.
The latest forecast cone shifts Irma's center more to the east.
If that trend continues, it could prove favorable for South Florida — but an even further shift to the east could prove more ominous for other states, including Georgia and the Carolinas.
"Irma may be a big threat to us in the Carolinas," said Kate Garner with the FOX8 Weather Center.
Click here for live updates on Hurricane Irma.
Evacuations set for Florida
While Irma's exact path is uncertain, wary shoppers stood in long lines outside some stores Tuesday in Florida as residents prepared for the storm.
Miami-Dade County will start evacuating special-needs residents Wednesday, and may announce other evacuations soon, Mayor Carlos Gimenez said.
"I would rather inconvenience our residents" with evacuations than suffer loss of life, Gimenez said.
Schools and county offices will be closed on Thursday and Friday.
And the state's Monroe County, which includes the Florida Keys, said it will order visitors to evacuate by sunrise Wednesday, and residents should begin to evacuate 12 hours later.
In Florida, people were standing in lines at stores to buy water and other goods on Tuesday.
The latest forecast track for #Irma, shifted slightly east of previous track. #upwithFOX8 Tune in at noon! pic.twitter.com/5jI9Qrn4m7

— ♌️ Emily Byrd 🌬 (@Em_I_Am) September 6, 2017
In Miami, supermarkets and other stores were already selling out of water and nonperishable food.
After declaring a state of emergency across Florida, Gov. Rick Scott said President Donald Trump had "offered the full resources of the federal government."
White House Homeland Security Adviser Tom Bossert tweeted that the President had declared emergencies for Florida, Puerto Rico and the US Virgin Islands.
Scott also ordered 7,000 National Guard troops to report for duty by Friday morning.
"I cannot stress this enough. Get prepared," Scott said at a news conference. "Learn your evacuation zone. Listen to your locals. This storm has the potential to devastate this state. You have to take this seriously."