This is an archived article and the information in the article may be outdated. Please look at the time stamp on the story to see when it was last updated.
SPRINGFIELD, MO — The body of a 10-year-old that prompted a nationwide AMBER Alert has been found, family members told KTVI.
According to the report, Craig Michael Wood, 45, was arrested around 11:45 p.m. Tuesday in connection with the case. He faces first degree murder charges, according to the Greene County Sheriff's Office website. 
Wood was a teacher's aide and athletic coach in the Springfield School District. He has worked in the district since 1998.
Hailey Owens was reported missing around 4:45 p.m. Tuesday after Wood allegedly stopped and asked her for directions and then pulled her into his vehicle, according to KTVI.
Officials confirmed Wednesday the body of a young girl was found inside his home, however they did not confirm the identity of the body. Early Wednesday morning, police obtained a search warrant for Wood's home and found the child's body inside.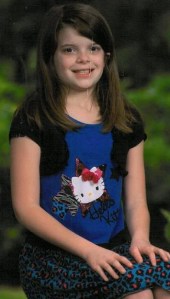 Witnesses say the man grabbed Hailey from in front of a neighbor's home and drove away in a gold 2008 Ford Ranger Tuesday afternoon. The suspect drove down the street several times before approaching Hailey and pulling her into his truck, witnesses told police.
Hailey's mother said the fourth-grader was returning home from visiting a friend when she was abducted a couple of blocks from her home.
The FBI is assisting with the investigation.
Police are expected to provide more details at a 12 p.m. news conference.
Source: KTVI
Timeline of events (all times Central Time Zone):
Tuesday 4:48 p.m.  Witnesses call Springfield, Mo. police to report child abduction.
Tuesday 5:00 p.m.  Police arrive at scene of reported abduction.
Tuesday 7:00 p.m.  State-wide AMBERAlert is issued for Hailey Owens.
Tuesday 8:30 p.m.  Following a tip, police locate Craig Michael Wood in his vehicle. He is taken into custody.
Tuesday 11:30 p.m.  About 30 police officers and investigators search area in the 1500 block of E. Stanford Street where they find evidence of foul play.
Wednesday 6:30 a.m.  Police hold news conference, name Wood as suspect.
Wednesday 7:30 a.m.  AMBER Alert organization tweets the alert has been canceled.