This is an archived article and the information in the article may be outdated. Please look at the time stamp on the story to see when it was last updated.
ROCKINGHAM COUNTY, N.C. — Two additional arrests have been made in the murder of Lopez Anthony Dalton and one additional suspect is sought, according to Rockingham County Sheriff's Office Detective Lt. G. Smith.
On Saturday at 2:35 a.m., deputies responded to the Eagle Express/Huddle House, located at 2301 U.S. 220, Stokesdale, in reference to a gunshot wound.
Upon arrival, deputies found Dalton, of Reidsville, deceased in the parking lot.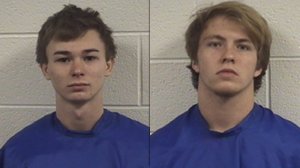 Jesse Lee McCollum, 17, of Madison, and Blaine Alexander Camp, 18, of Danbury, were charged with first-degree murder on Saturday.
On Tuesday, sheriff's investigators obtained arrest warrants for first-degree murder for Demarcus Kellam, 22, of Eden; Tysean Ghaute Kellam, 17, of Eden; and Jamie Renee Aiken, 19, of Stoneville.
Aiken and Tysean Kellam have been arrested and are now confined in the Rockingham County Detention Center, Smith said.
The sheriff's office is currently attempting to locate Demarcus Kellam. He should be considered armed and dangerous, Smith said.
Anyone with information about the case is asked to call Crimestoppers at (336) 349-9683.