This is an archived article and the information in the article may be outdated. Please look at the time stamp on the story to see when it was last updated.
KERNERSVILLE, N.C.– A Kernersville woman is dead after Forsyth County investigators say her boyfriend's two pit bulls attacked her as she tried to feed them Monday night.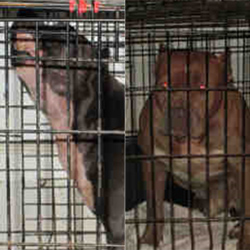 According to Forsyth County Sheriff's Office Captain Millard Shepherd, 25-year-old Katherine Atkins was trying to feed the dogs at a home on Stable Hill Trail in Kernersville. For unknown reasons, the dogs attacked Atkins as she was giving them their food.
Another man that lives at the home found Atkins dead inside a dog enclosure.
Investigators say Atkins had been around the dogs since they were puppies and there is "no history of problems or aggression" with the dogs.
The dogs were seized and have been euthanized by Forsyth County Animal Control. They are in Raleigh undergoing a necropsy.
Autopsy results will determine Atkins' cause of death but Captain Shepherd said he does believe the dogs are to blame and doubts there will be any charges filed.