This is an archived article and the information in the article may be outdated. Please look at the time stamp on the story to see when it was last updated.
WINSTON-SALEM, N.C. -- A man is in serious condition after shots were fired by two Winston-Salem officers during a traffic stop early Friday morning, police say.
According to police, Officer B. Ferguson was attempting a traffic stop around 12:24 a.m. near a Citgo gas station on North Liberty Street in Winston-Salem.
There was a confrontation and police say shots were fired by Ofc. Ferguson. The vehicle sped away, circled a business and collided with a chain link fence.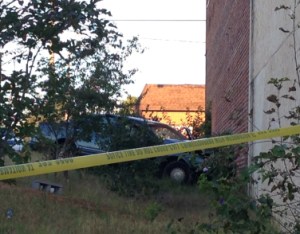 The vehicle was heading across Liberty Street towards Officer B.K. Ayers, who was responding on foot to assist. Officer Ayers shot at the vehicle which then collided into the south side of Gilmores Funeral Home on Liberty Street.
The driver, James Edward Plater, 32, suffered a gunshot wound and was taken to Wake Forest Baptist Medical Center where he is in serious condition.
According to the N.C. Department of Public Safety website, Plater has prior offenses including possession of drugs, robbery and speeding from police.
The passenger, Aonta De'Vaux Ruth, 32, was taken to Baptist where he was treated for a gunshot wound and released.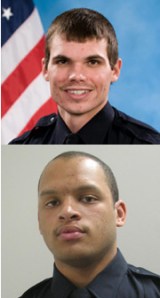 Officer B. K. Ayers is a four and a half year veteran with the Winston-Salem Police Department and is assigned to the Field Services Bureau, Special Operations Division Street Crimes Unit.
He has been placed on administrative leave while the investigation is conducted, which is customary in all officer involved shootings.
Officer B. Ferguson is a two and a half year veteran with the Winston-Salem Police Department and is assigned to the Field Services Bureau, Patrol Division.
Officer Ferguson has also been placed on administrative leave.
The Winston-Salem Police Department Criminal Investigations Division will be conducting the investigation concerning the original vehicle stop. The Professional Standards Division will also be conducting an administrative investigation into the matter.
"Officer Ferguson and Officer Ayers have exercised their rights to consult with an attorney prior to being available for interviews which is a common practice, so it will likely be next week before we hear their side of what happened," said Assistant Chief Connie Southern.