This is an archived article and the information in the article may be outdated. Please look at the time stamp on the story to see when it was last updated.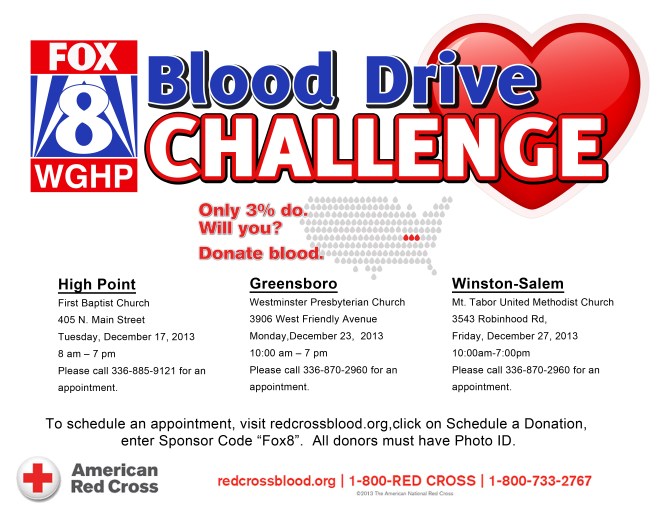 FOX8/WGHP and the American Red Cross are conducting the FOX8 Holiday Blood Drive Challenge. Come out and give the gift of life at one of the three area locations.
The first opportunity to donate blood will be in High Point on Tuesday, December 17th at the First Baptist Church located at 405 N. Main Street from 8am to 7pm. Donors can call 885-9121 to make an appointment.
The second opportunity is in Greensboro on Monday, December 23rd at Westminster Presbyterian Church located at 3906 Friendly Avenue from 10am to 7pm. Donors can call 870-2960 to make an appointment.
Finally, you can donate at the Winston-Salem drive on Friday, December 27th at Mt. Tabor United Methodist Church located at 3543 Robinhood Road from 10am to 7pm. Donors can call 309-8938 to make an appointment.
The Red Cross notes that day in and day out, hospital patients need blood for emergency and ongoing care related to serious illness, accident or trauma. In fact, every two seconds, someone in the U.S. needs blood. "We hope to encourage at least two more donors to give blood at every Red Cross blood drive — above what's expected — to help ensure lifesaving blood products are available at a moment's notice," said Patrick Antrim, Red Cross Donor Recruiter.
Donors can also go online to www.redcrossblood.org and use sponsor code "Fox8" to make an appointment for any of the drives.