This is an archived article and the information in the article may be outdated. Please look at the time stamp on the story to see when it was last updated.
WINSTON-SALEM, N.C. — The wait is over.
The Sexual Chocolate Imperial Stout is back and just in time for Valentine's Day.
Tonight Foothills Brewing is hosting its Sexual Chocolate  release party in Winston-Salem at 7 p.m.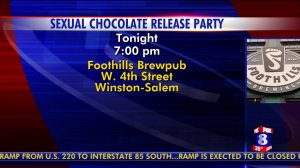 This marks the 10th Anniversary  release of the cocoa infused craft beer.