This is an archived article and the information in the article may be outdated. Please look at the time stamp on the story to see when it was last updated.
Pumpkins have become fall's favorite ingredient.
A Lowes Foods' chef showed us new ways to enjoy pumpkin for breakfast, dinner and of course dessert.
Pumpkin Fundamentals 
Toasted Pumpkin seeds:
Ingredients
1 ½ cups fresh pumpkin seeds (seeds of approx. 2 medium to small pie pumpkins)
1 tsp melted butter
Pinch salt
Preparation
Preheat oven to 325
Combine all ingredients and spread on a baking sheet
Bake in an oven for approx. 24 minutes until golden brown and crunchy
Tip
You may hear the seeds start to pop when they are done
Sprinkle with a little cinnamon or chili powder for extra flair
Pumpkins for Breakfast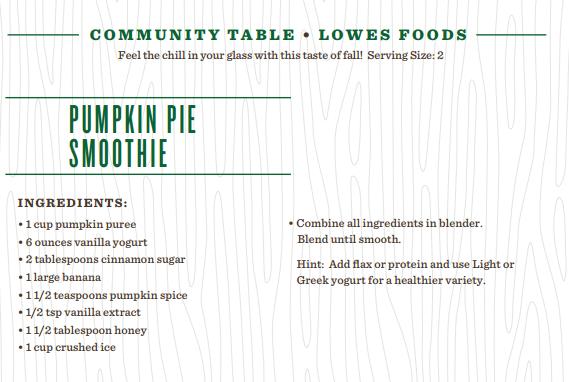 Pumpkins for Dinner
Pumpkin Deserts
Cinnamon Whip Cream:
Yield approx. 1qt
Ingredients
1 pt whipping cream
1 tsp full circle organic cinnamon
2 tsp dark brown sugar
¼ tsp Full circle organic vanilla extract
Preparation
Combine all ingredients in a mixing bowl. Whip until stiff peaks form
Tip: Place mixing bowl in refrigerator to chill prior to mixing
Roasted Pumpkin and crunch Quinoa Parfait:
Yield: approx. 4-6 parfaits
Ingredients
Roasted Pumpkin
1 small pie pumpkin peeled and diced (1 qt)
½ tsp full circle organic cinnamon
1 tsp olive oil
2 tsp local honey
Pinch salt
Yogurt Quinoa
¼ cup red quinoa
2 cup low-fat vanilla yogurt
Preparation
(Prepare a day in advance)
For the pumpkin
Preheat oven to 325
Toss pumpkin with oil, salt and cinnamon. Place on baking pan and roast until tender (20-30min)
Remove from oven and toss with honey
For the yogurt
Whisk quinoa and yogurt together and let sit for 8-10hrs
To build parfait place yogurt mixture in bowl and top with pumpkin
Tips:
Hard squash can be used in place of pumpkin
Toast the pumpkin seeds for added crunch
Fresh Pumpkin Pie:
Yield: 1 pie
Ingredients
1 ea medium to large pie pumpkin
1 12 fl oz can evaporated milk
3 medium sized eggs
¾ cup white sugar
1 ½ pumpkin spice
1 ea 9inch deep dish pie crust
Preparation
Preheat oven to 325
Cut pumpkin in half from stem to base (remove stem). Remove seeds and center
Wrap pumpkin in foil and place on baking sheet face up. Bake for 30-40 min until tender
Remove and chill to room temp. Scrape pumpkin from skin and puree in food processor until smooth
Combine just under two cups of pumpkin puree with evaporated milk, eggs, spice and sugar. Beat together with paddle or spoon until smooth
Pour mixture into pie crust and bake at 325 for approx. 45min
Top with whip cream and serve